Online exams have a crucial element of convenience attached to them. However, this feature comes with some perils. Students may explore ways and means to cheat during online exams. A massive specialized force of experts works day and night to find preventive tools to prevent cheating during online exams. A browser lock is a prominent solution to achieve this objective. 
Let us see how and when the browser lock is helpful to attain optimum exam integrity.
What is browser lock Software?
The concept of a browser lock is simple. It prevents access to unauthorized applications and browsers while an online exam takes place on a particular system. These browser locks can also work simultaneously on multiple levels( user, desktop, mobile device, and core system) for real-time detection and prevention of cheating. Ultra-advanced online proctoring tools such as ProctorTA(Teaching Assistant) cover all these levels for wholesome security coverage. They also offer blended proctoring services for enhanced security.
An intelligent browser lock should have these features to do its job:
• Secure Testing Environment
The browser lock does block several cheating practices during online exams. This functionality creates a safe, fair, and seamless testing environment. Educators feel more confident and sure about the scores of the students and help in understanding the actual level of understanding.
• Integration Friendly with LMSs
An essential feature for any browser lock is the ability to unify with the LMS for testing purposes. This feature is almost non-negotiable as most institutes have their own chosen learning platforms, such as canvas browser lock.
Setting up the browser lock should be easy, and every step should be available using process drafts or product descriptions. This gives confidence to students and educators that they will be able to navigate the system without much problem. Especially during in-classroom exams, a browser lock without a webcam is a straightforward tool to use. At the same time, a browser lock webcam should also be an option.
• Efficiently Client Support
Any service provider offering a browser lock should have a solid infrastructure for client support. As last thing a student or an educator wants to worry about is a technical glitch/confusion during an assessment.
• Scalable and Economical
One significant feature of a browser lock is that it should help the institutes to keep their budget under check. With the increase in the number of students, the cost should not exponentially increase.
• Technologically Advanced and Updated
We understand now that many people are finding ways to cheat during online proctored exams. Technology should undergo constant upgradation and inclusion, which is the key to avoiding cheating issues during remote exams. It should work across devices such as a browser lock for mac like ProctorTA.
Can Students Cheat with browser lock?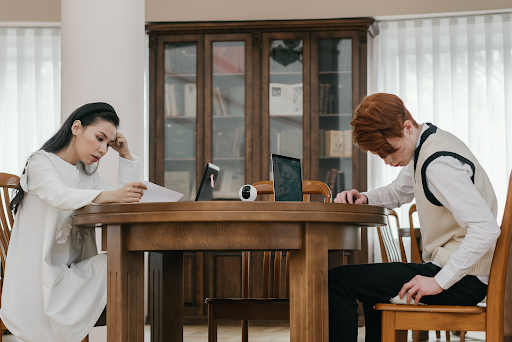 It is almost naive to think and believe that any application or software is unbeatable in this dynamic era. Techno brats will find a way to break the security barrier to invade and manipulate any software. Only the constant quest to find better ways to prevent cheating will keep the exams safe from such incidences. Also, a simple rule of using only the advanced and intelligent lockdown secure browsers should be in place for cheating prevention. Remote proctoring software like ProctorTA has the best preventive technology to fight back against cheating.
Concerns Regarding browser lock:
There has been some buzz around the issues regarding the browser lock. In most scenarios, the solution would be put to use on the system owned by the institute where the student appears for the exams. However, with BYOD ( bring your own device) trend, students may have to install the same on their devices. This is a tricky thing for the students. Some solutions have been invading the students' privacy and accessing unauthorized data for commercial purposes. 
Therefore, students are more likely to use ethical and intelligent remote proctoring tools like ProctorTA. Such solutions adopt the least invasive approach regarding student data privacy, and their robust regulatory compliances are the testimony of their work practices. If the students feel stuck about how to download the browser lock? The process is simple and fast, and the service provider gives every step for users' convenience.
How to Download the browser lock?
Downloading browser lock is a straightforward process, and it is possible to do it seamlessly with the help of the tutorials available. Installing a browser lock is as simple as installing any other application.
Conclusion: browser locks: An Strong Solution for Exam Cheating
Technology has been a great support in the evolution of online education. On top of the same, the possibility of online exams added great comfort to educators and students. However, incidences of cheating do jeopardize the credibility of online exams. Hence, institutes should extensively use modern preventive tools such as browser locks from advanced solutions like ProctorTA to rule out this menace. Also, it gives a fair opportunity to all the students to score to the best of their abilities.