Proctortrack leverages automation and live online remote proctoring using AI to deliver innovation, quality and price leadership at scale.
Proctortrack is the ONLY remote proctoring solution that's BOTH a light Desktop App download that continuously verifies identity and secures monitoring AND a browser extension that ensures browser lockdown and live proctor intervention.
The unique Proctortrack technology approach guarantees
the highest level of Trusted Exam Integrity at the: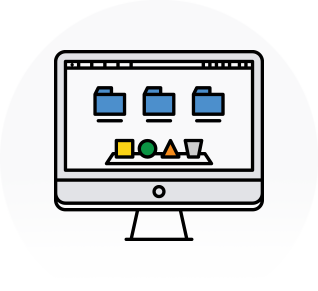 Core Operating
System Level
Testing Environment Level
With these four levels of coverage, Proctortrack captures only
the minimum amount of data needed and can deliver:
True content test IP protection
Allow for all types of exams including paper - pencil
Deliver live remediation and support

Remain the most cost effective solution on the market
The critical risks for using solely a browser extension for remote proctoring
Take your exam from the comforts of home, with no commuting or advanced scheduling required – available anytime, anywhere, on-demand.
Low-cost remote proctoring solution
Automated remote online proctoring offers consistent results at-scale, which translates to a more affordable world class solutions.
Just open the app in your LMS to take a hassle-free remote proctored online test. It is student-friendly, convenient - secure and easy to use, comfortable remote proctoring experience.
Get the credit you deserve, and emerge from a level playing field with a more valuable degree. Having academic integrity is important because it provides value to your degree.
Remove the manual element for a less intrusive, more comfortable online proctoring experience. Helps utilizes an automated, proctorless approach to online course exam.
All student data is handled in compliance with FERPA regulations, protected with military-grade encryption, and purged in accordance with our data retention schedule - proud signatory of the Student Privacy Pledge.
New features on the mobile version:
Mobile Lockdown
Selfie ID
Room Scan
Calculator
Test Clock
Document Scan
Follow us on Social Media
Over 5 million identity verification and monitoring sessions delivered.